Hello and welcome!  I am so proud to introduce you to Maple Family Dental of Libertyville.  I have been practicing dentistry for 30 years and genuinely enjoy my job!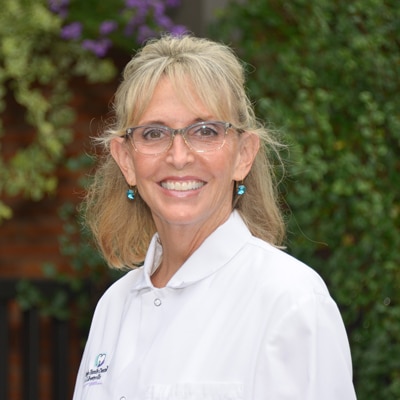 I was honored to practice side by side with my father and uncle for many years in Arlington Heights.  I have continued their legacy, as well as Dr. Ernest Tolli's, serving the Libertyville community since 2010. I have lived in Libertyville since 1998 with my husband, Dr. Vince Arpino, who I met in dental school and happens to be the orthodontist next door! We have thoroughly enjoyed living in the community and raising our grown son Vincent.  I am so lucky to have had three great mentors and to live and work in such a wonderful community.
I understand that many people find going to the dentist a stressful experience so I focus on giving 100% of my attention to making sure my patients feel at home and their experience is a pleasant one.
Education
My education in dentistry and 30 years of working experience has provided me with a strong foundation and knowledge in the field.
B.A. Degree, University of Illinois at Champaign-Urbana
B.S. Degree in Dentistry, University of Illinois Chicago
D.D.S. Degree, University of Illinois Chicago
Continuing Education
I am always participating in continuing education courses throughout the year, not only because it is mandatory, but I truly enjoy it! It allows me to stay current with technologies and treatment options for the best possible results for our patients. The professional organizations I am involved with include:
Past President of Northwest Suburban Branch of Chicago Dental Society
Illinois State Dental Society
American Dental Association
Volunteer for Donated Dental Services for the handicapped and disabled
I am happy to brag that I have a great team! Sandi, our office manager, Jennifer, our hygienist, and Diana, our assistant, are all top notch. Not only do we work well together, but we genuinely like each other and have a good time while getting our work done. To borrow Sandi's motto, "Everyday is a good day!"